NIH Comparative Biomedical Scientist Training Program (CBSTP) COMBINED PATHOLOGY & RESEARCH TRAINING
This program is tailored for those with doctoral degrees in veterinary medicine, who intend to seek advanced training in pathology and research. Our aim is to prepare comparative pathologists for careers as experimentalists and comprehensively trained scientific research collaborators. This is accomplished by combined training in both clinical veterinary medicine and human biomedical research.This training leads to a Ph.D. and eligibility for certification as a medical specialist in veterinary pathology.
Trainees take advantage of the strengths of outstanding university based pathology training at one of our partnership universities and the phenomenal basic, translational and clinical research opportunities at the NIH.
This program allows for integration across classic disciplines including:
Autoimmunity
Bioterrorism
Carcinogenesis
Cell, stem cell and developmental biology
Immunology
Infectious diseases
Metastasis
Molecular pathology
Neurological disorders
Stroke
Virology
Vaccine development
Many others
Training is offered through a consortium of 5 Universities and 4 NIH Institutes
This program combines the unique training strengths from both leading diagnostic pathology and graduate programs with training at the National Institutes of Health (NIH).
Eligibility
To be eligible for admittance to this program, applicants must have obtained a D.V.M./V.M.D. or equivalent professional degree from a recognized veterinary college and have less than 5 years relevant postdoctoral training experience, and must be US citizens or permanent residents (green card).
How the Program Works
Our trainees typically have two routes of entry into this program. Trainees who hold the D.V.M. degree enter the program at the initiation of diagnostic pathology training or they are current pathology residents in a recognized post D.V.M. training program. (see diagram below)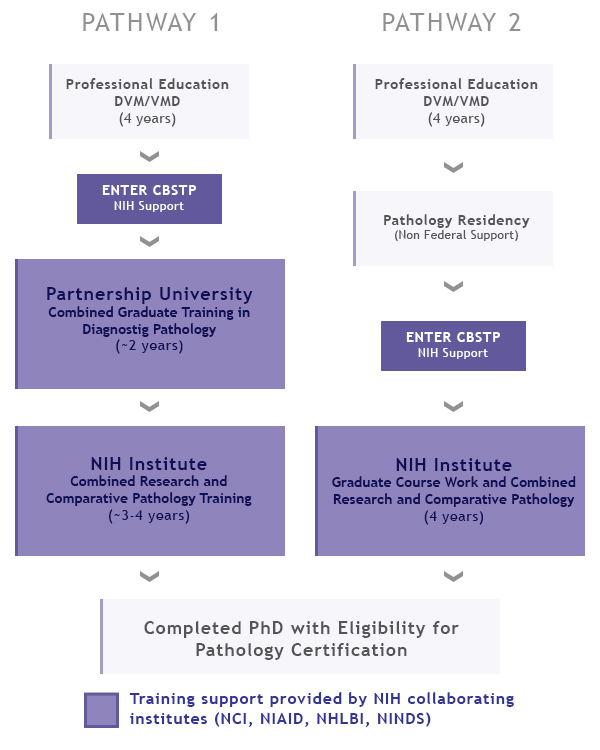 Pathway 1

Trainees enter the program upon completion of their D.V.M.. The core experience in diagnostic pathology training takes place at a partnership university during the first two years of the program, along with the graduate school required didactic course work. Trainees then transition to the NIH through the NCI Molecular Pathology Unit MPU. During this short transition, trainees have the opportunity to undertake a laboratory bench experience in basic molecular pathology techniques. This experience can be tailored to the needs of the trainee. Relevant techniques include:

In vivo non-invasive medical imaging Polymerase chain reaction Immunohistochemistry and in situ hybridization

During this transition time a dissertation project mentor is sought through interviews and lab visits. The determination of mentor is based on agreement between the trainee and the mentor, and must receive approval from the CBSTP program director, the CCR training director, the university mentor and the scientific director of the participating NIH institute.

Once the laboratory match has been made, dissertation research begins. Additional training is provided, throughout the course of training from the MPU, and includes: diagnostic slide seminars, work in progress seminars given by trainees conducting dissertation research, pathology training sessions, and other training activities. Trainees also participate in the NIH Collaborative Pathology Interface between physician and veterinary pathologists.

Rodent research necropsy
Rodent pathology and phenotyping
Laser capture microdissection
Digital slide scanning and quantitative morphometric image analysis
Others

Pathway 2

Trainees enter the program following at least 2 years of diagnostic pathology training. During the first year of the program, trainees will be situated in the MPU while they complete their didactic graduate coursework at the University of Maryland, College Park. Additionally, while in the MPU, trainees will participate in pathology training sessions, laboratory bench experiences in molecular pathology techniques, and pre-dissertation research. For pathway 2 trainees, this is also the time a dissertation mentor is sought, through the same process described above for pathway 1 trainees.
Comparative Biomedical Scientist Training Program Support
Training support is provided to trainees through a Cancer Research Training Award (CRTA) appointment, funded through the NIH Intramural Research Program. Funding is provided for 5 to 6 years; 2 years at a partnership university, and for 3-4 years at the NIH for Ph.D. dissertation research.
Training support includes an attractive post-doctoral stipend, health insurance, university tuition, books, travel (to scientific meetings, and to university committee meetings), research project resources, and an allowance for relocation from the partnership university to the NIH, while in training.